NAMING CEREMONIES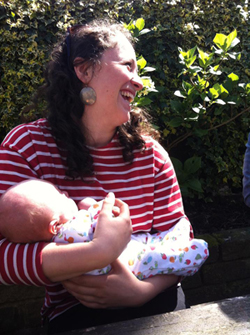 This is your opportunity to welcome a child into your community of family and friends. As an alternative to a traditional christening, these thanks-giving ceremonies are joyful and affirming opportunities for you to promise your support, guidance and love to the child.
You can develop the theme of the celebration through the use of readings, music and poetry. These can reflect your hopes and aspirations for the future. Parents can reaffirm their commitment to each other as well as making promises to their child.
Special Supporting Adults or Guide Parents can be chosen to offer guidance or advice, and to commit themselves to the child's future happiness. We can include friends, siblings and grandparents in whatever way suits you and work together to plan a life enhancing and happy event.
A Certificate is signed during the event which you keep as a lasting reminder of the promises made.
Testimonial
"We asked Catherine to conduct our baby's Welcome to the World' ceremony…We created a tailor made ceremony designed especially for our family. We were able to choose our own songs, poems etc. and Catherine wove them into a very personal script which was flavoured by her own take on the world.
We are not strictly religious folk but we do have strong beliefs and values about community and family, and we wanted the spirit of love for our son to be warmly conveyed – we were not disappointed.
Catherine made all involved in the ceremony feel at ease and able to play their different parts in a relaxed way." Sarah, Mal (and Otis) Baines.
In all the days and years to come
We promise you our loving care
Providing you both roots and wings
That you may feel safe, that you may one day fly